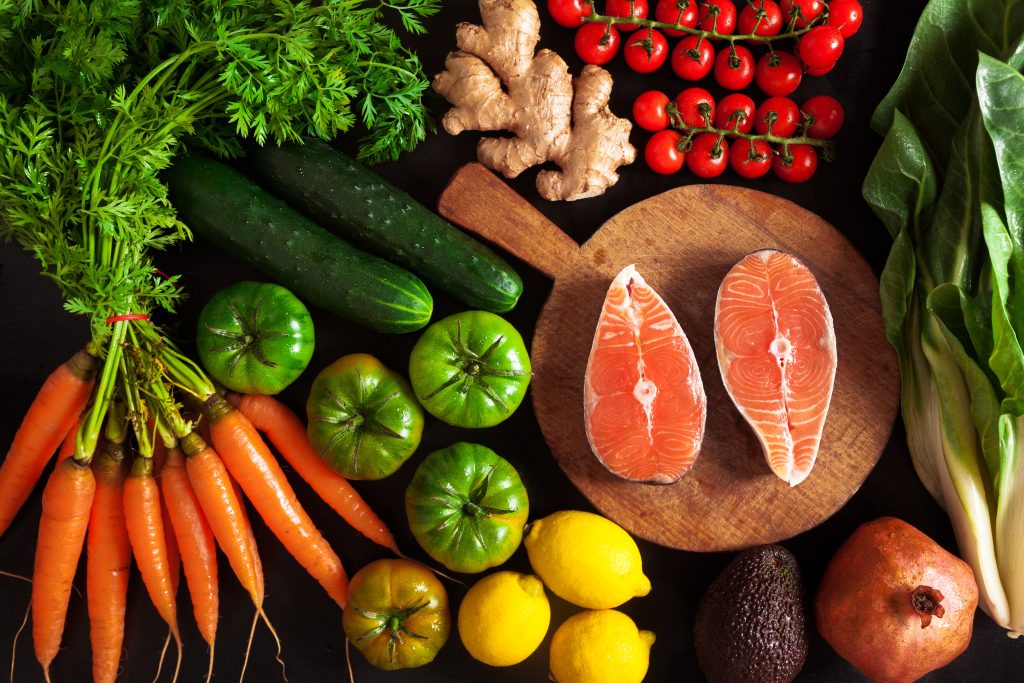 Are you spending too much going out to eat? Trying to eat healthier, but getting either bored or overwhelmed with the process of meal planning and food prep? Before you give up on your goals of improving your nutrition, saving money on food, and reducing the amount of food you throw out, consider an easier path to meal planning.
I don't count calories, but I do believe in eating healthfully and mindfully. But, I really don't enjoy cooking that much, even when I have the time. So, I've found ways to be able to spend less than 10-15 minutes getting something healthy together for meals.
What follows is the plan I have found works for my family. Take what you think might work for you and begin to experiment. See what healthy habits you can establish for yourself, one meal at a time.
Breakfast is either a flaxseed microwave "muffin" that is high-protein and fiber with yogurt or steel-cut oats and fruit and nuts.
One Minute Flax Muffin – Low Carb Recipe – Genius Kitchen
(I use coconut oil)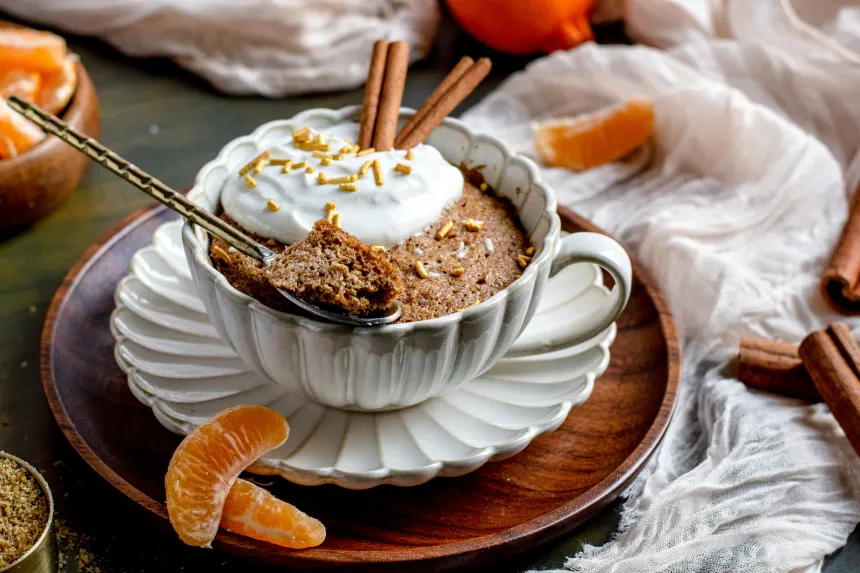 (I love breakfasts that look like dessert!) Breakfast and Brunch Recipes
Lunch is salad, hummus and veggies, often leftovers from dinner the night before. I food prep earlier in the week (I spend less than an hour on Monday mornings or Sunday evenings doing this for the rest of the week) and a few minutes in the morning so everything is ready when I come home.
Dinner: The Basic Plan
I make these things every week: Salmon (or other fish) that is marinated in teriyaki sauce, and baked in aluminum foil in the oven or grilled
salmon (or other fish) that is marinated in teriyaki sauce, and baked in aluminum foil in the oven or grilled
mixed greens salad
fruit salad (grapes, melon, berries, citrus)
Then I will add 1 or 2 of these things that I can mix/match with the above and with each other.
roasted or steamed vegetables
grilled chicken, fish, or shrimp
marinated mozzarella, shaved gouda, or other cheese
quinoa, bean, or lentil-based salad with veggies
flatbread topped with pesto, veggies, mozzarella or other cheese
quiche
soup or stew
The combinations of the above provide enough variation that we don't get bored and don't feel like we are always eating the same thing. But meal planning and preparation are minimal and the options are healthy.
What we don't end up eating is a lot of processed food or simple-carb pasta, rice, bread, or potatoes (although some of the soups and stews have these in small amounts). We also don't eat much fast food, because good, healthy food is ready to eat in my fridge with no or minimal preparation when we want it.
We eat out once or twice a week, usually on weekends and sometimes pick healthy food items and sometimes eat whatever we want just because it tastes good. I use a loose 90/10 rule… 90% of the time I eat highly nutritious food, the other 10% of the time can be food for fun (no nutrition required ).
I prefer to keep things simple, using a few recipes for salads, soups, stews, and quiches that my family loves and rotating them based on what is seasonally available and what we all want that week. And I make use of my crockpot, too, especially in the Fall and Winter. We shop once on Sunday for the entire week, because that's what works for us.
Food Prep: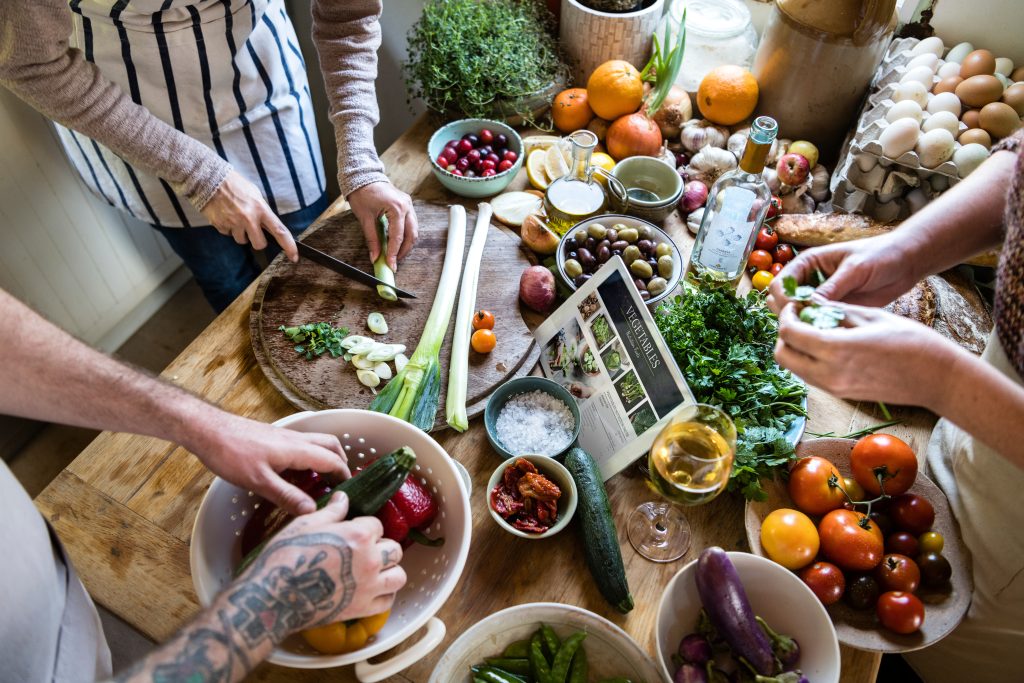 I prep either on the weekends or in the morning before work, chopping up veggies and fruit for salads, soups, roasting, or for flatbread toppings. I also individually bag chopped carrots, green peppers, celery, cucumber, grapes, apples slices with lemon juice, and orange slices to add to hummus and cheese sticks for a "snack drawer" and to grab for packed lunches.
Put salmon in a bag with teriyaki sauce and it marinates all day, then bake it in the oven for 25 minutes at 425 degrees. I individually bag chicken breasts, fish, or shrimp with a couple of tablespoons of Italian, Asian, or Greek salad dressing and freeze them. I can let one thaw in the fridge during the day, throw it on the grill or bake it at night and use it for topping a salad or flatbread.
You can chop and prep your salad in the morning, cover it in the fridge with plastic wrap or in a container and it's ready to add other ingredients as soon as you walk in the door. When you make homemade soups or stew, double the recipe and freeze half in quart-size ziploc bags. They defrost in the microwave quickly and heat up on the stovetop.
So, that's it! It's not hard once you get in the habit of making just a few healthy things every week, add other things for variety, but you don't have to come up with a whole new menu every week.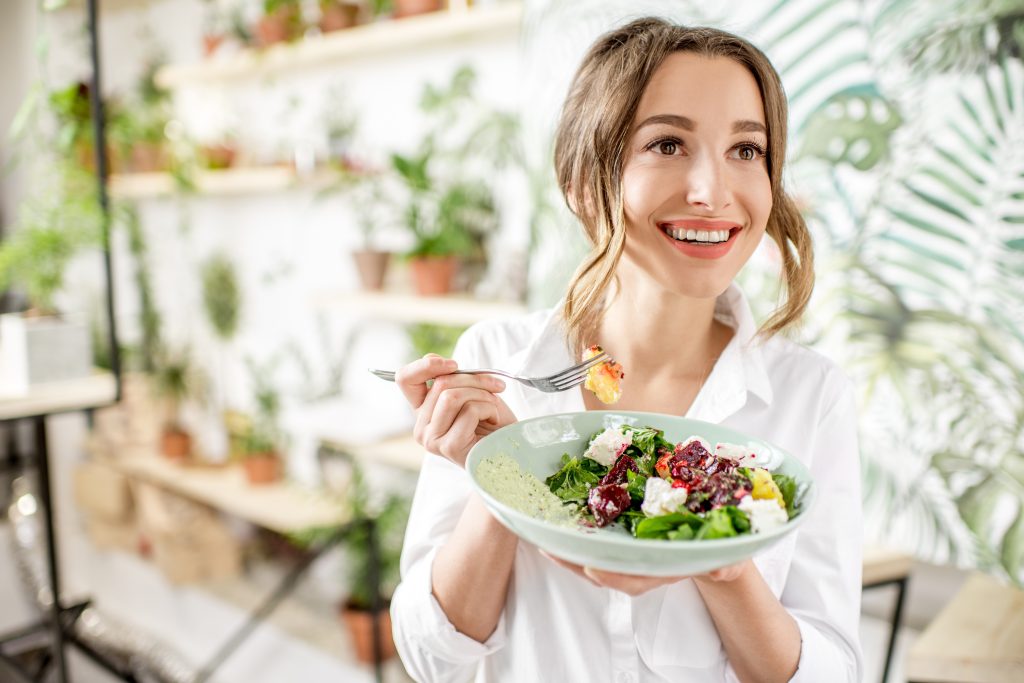 Eating healthfully means planning mindfully and ensuring that you are dedicating some time each week to planning, grocery shopping, food preparation, and then enjoying the (literal) fruits of your labor. The improvements in your physical and mental health should be noticeable fairly quickly!
Dr. Anita Sanz, PhD, Psychologist
When I am working with clients in therapy, I often share with them this piece of universal wisdom: The extent to which you are willing…